4 Registration and Activation
4.1 Registration
BSN requires its users to register and confirm their registration before they can access the network to carry out services and actions across the network. As a first-time user, follow these steps to register:
1. Click here to access the website at www.bsnbase.io.
2. With the blockchain-based service network, you can access the system either as an Individual or a Corporate entity.
3. To register as an Individual, enter or select the following:
Username - Enter a preferred username
Nationality - Click the dropdown to select your country from the list of countries
Name – Enter your real name, different from the username
Mobile Number (Optional) – Enter your mobile number
Email address – Enter an email address you have access to
Brief description of your programming experience (Optional) – If you have some experience in programming, we would love to hear about it.
Check the I have read and agree to Terms of User and Privacy Policy box
Click Confirm to finish the registration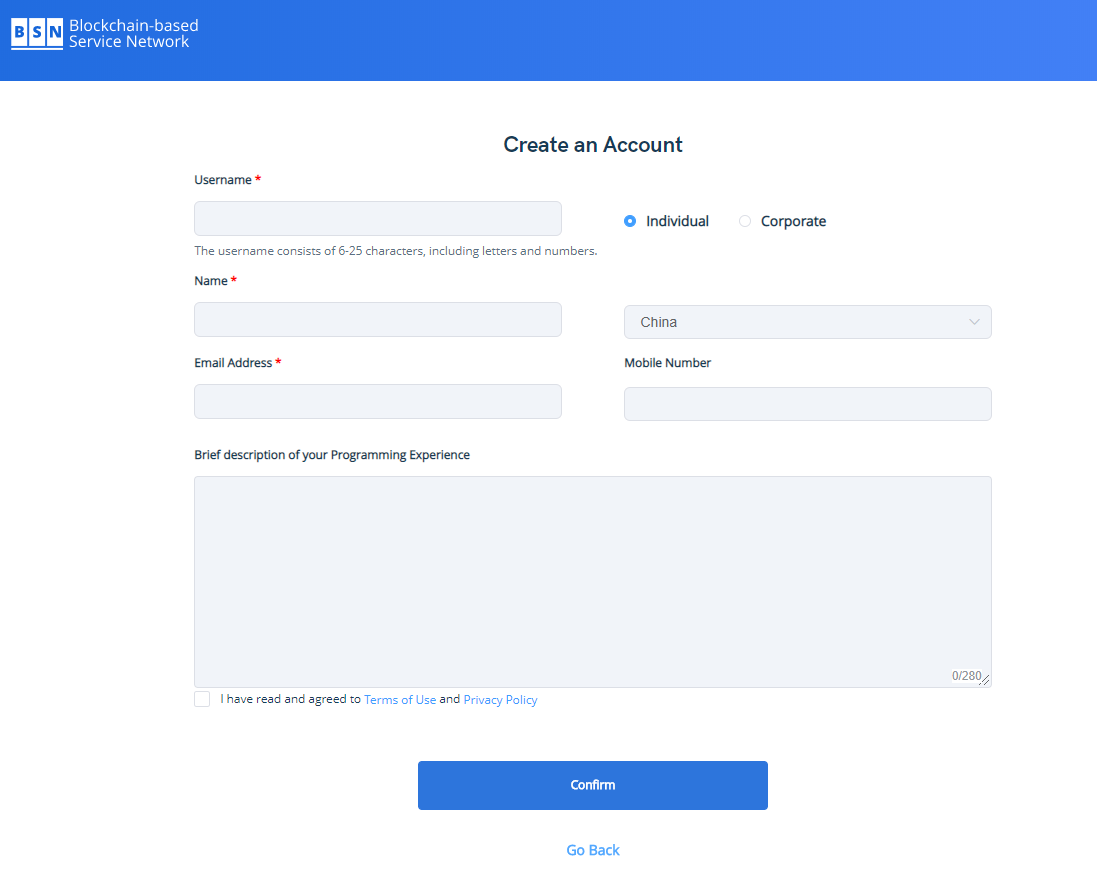 4. To register as a Corporate entity, enter or select the following:
Username – Enter a preferred username
Nationality - Click the dropdown to select your country from the list of countries
Enterprise Name – Enter the legal name of your corporate body or company name
Detailed Address – Enter a verifiable address of the company location
Contact Name – Enter a contact name that represents the company
Mobile Number (Optional) – Enter your corporate mobile number
Email address – Enter a corporate email address that you have access to
Brief description of your programming experience (Optional) – If you have some experience in programming, we would love to hear about it.
Check the I have read and agree to Terms of User and Privacy Policy box
Click Confirm to finish the registration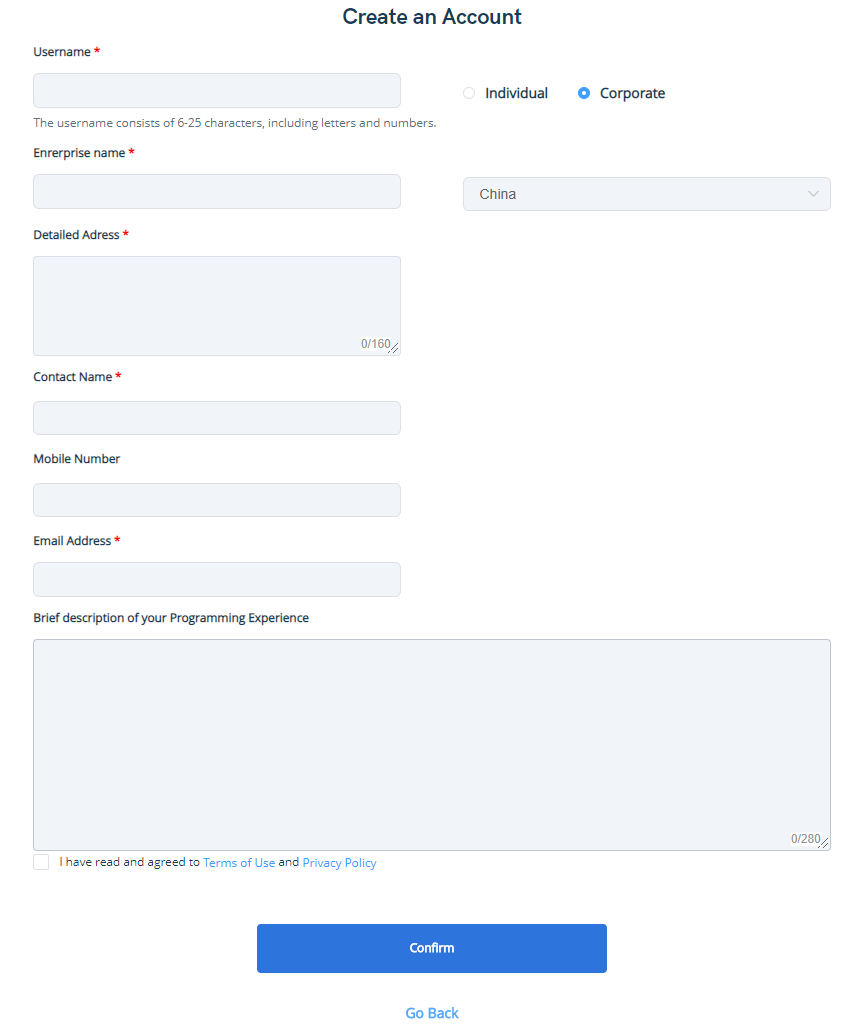 5. A confirmation dialog box will be displayed confirming your registration. Click Go to Dashboard.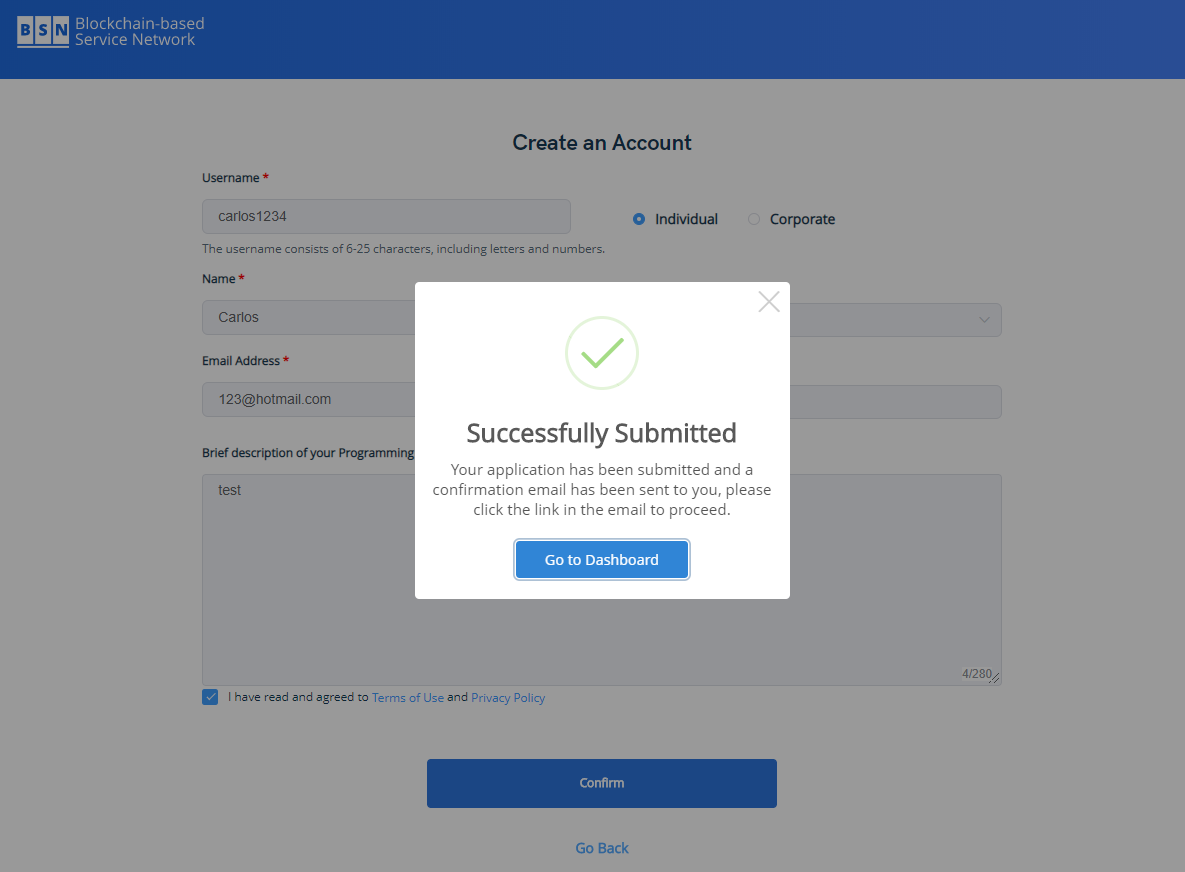 6. You will receive an email from BSN requesting that you confirm your registration.
7. Click on the link in the email to confirm your registration and enter your Password and Password Confirmation.
8. Click Confirm when done to return you to the login page.